MIMOSIS





A TALE ABOUT MIRROR NEURONS AND OGRES




"Make speed there Wolverstone"
"Speed it is Peter"
"Make speed there!"
"Make speed there!"
"Make speed there! That's the order!"



.

Captain Blood 1935






..........PLAY FULL SOUNDTRACK





"When I wish to find out how wise, or how stupid, or how good, or how wicked is any one, or what his thoughts are at the moment, I fashion the expression of my face, as accurately as possible, in accordance with his, and then wait to see what thoughts or sentiments arise in my mind or heart, as if to match or correspond with that expression.".

....................



Edgar Allan Poe: "The Purloined Letter", 1845

LIVE AT MELBOURNE FESTIVAL'09

<---

play

extracts




As presented at the Melbourne International Film Festival, 30th July 2009










OPENING SCENE
FLY IN OVER MAKING OF A VIDEO CLIP - HIP HOP HORROR WITH HORN...
CAMERAS FLASHING AROUND "GIRLS ON FILM" CATWALK SCENE
A CROWD OF EXTRAS ARE DANCING MADLY


| | |
| --- | --- |
| RAPPERS... AS MODELS | TITLES |
| | |
| "BOY" CHORUS | DANCING CROWD OF "LOOKY" PEOPLE |
| | |



THE BAND'S FINALE:.
PIRATE OF THE GOLDEN HEART <--- play song
(as presented Live at Melbourne International Film Festival 2009)
The crowd of extras are going wild, but the cameraman notices something more interesting to film... over in the corner.


ZOOM IN ON A CHAMPAGNE FLIRT.
He wants her; she needs him. They kiss and he pulls her lower body close to his.
She tightens the grip, and they sway to the music...


THE COUPLE SNOG AND THE CAMERA LOVES IT...

as the song continues...

BOY CHORUS
"Me bones are peaking as me muscles hump..."

FEMALE VOCALS
"You're going to leave me with a tiny lump
In my heart babe
You're Number One of my heart rate."

MALE VOCALS
Your eyes are pumpernickle to my gherkin

FEMALE VOCALS
I want to feed it to my hungry merkin

MALE VOCALS
While me minds the slap
When me heart's a-tickle...

FEMALE VOCALS
Your how's your father goes down like a pickle.
THE FLIRTING COUPLE ARE AT IT...

MALE VOCALS
And it's hardy hardy hardy hardy hard
I come to Pleasure Island on your Golden Heart.
THE FLIRTING COUPLE ARE UNDER THE SHEETS FOR THE INSTRUMENTAL...
FOR THE REST OF THE SONG, ACCELERATED COLLAGE OF THEM "AT IT" IN EVERY ROOM OF THE HOUSE, FINISHING UP IN THE KITCHEN.

MALE VOCALS.............(BOY CHORUS singing "HOO...HA...HOO...HA" )
Now I'm mascerating every line you utter.
...............HOO.....HA............... HOO.......HA
Mother of God, now it rhymes with butter!
HOO..........HA...............HOO...............HA
The recipe's changed, whether or not
.......HOO...........HA..........HOO............HA
We react to the scent or the game in the pot.
.........HOO............HA................HOO..............HA
But there's one thing I know:
If you want it to grow
Let it cook babe;
The oven feels like a heat wave !
WHAAAAAAAH!!!!!!!!!!........ CRASH OF DRUMS >>>>> JUNGLE RHYTHMS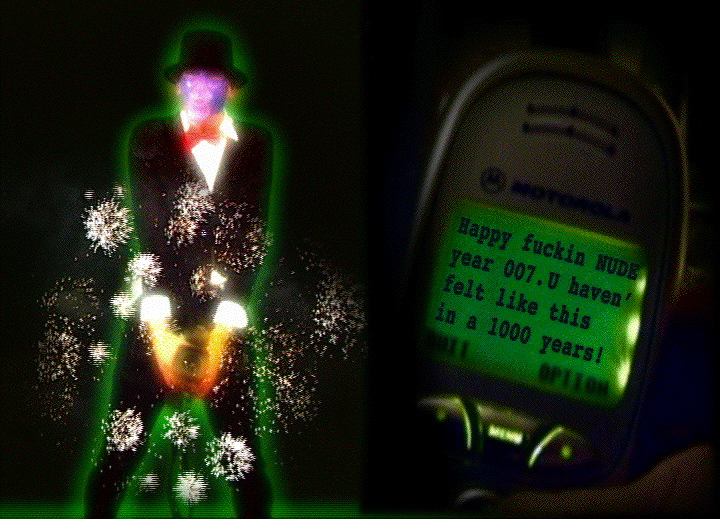 Torrid action, and the camera's gone mad. Lights start to flicker; everything's rattling; salt and pepper shake wildly; music builds to a climactic finish; kettle boils; lid pops off mayonaise; and...
3'42"
SWITCH TO CLIP, PLAYING ON MOBILE PHONE SCREEN
Beep beep, beep beep. Thumb fumbles to select...

TEXT MESSAGE

THE PRINCESS pops up in front of screen, dressed as a naughty nurse.
"Generally speaking, you can take someone's psychic pulse in a very short time, if you go about it in the right way. The method may cause some initial embarrassment, since it frequently results in your not hearing a single word the person says, or even remembering their name; if they are really getting under your skin, that is... "

PSYCHIC PULSE <--- play song
(as presented Live at Melbourne International Film Festival 2009)



CUT to: CU AND PULL OUT from her dissecting a slice of HAM at the dinner table.


THE PRINCESS
"Did you see your parents this Christmas?"
SHREK
"They're dead!" (She gags)
THE PRINCESS
"Oh f---! Yeah, I remember you told me..."


CUT to: SCREAM

CUT to: OVERHEAD VIEW.
Her studio. "The Scream" continues as a QuickTime movieTHE PRINCESS has been playing on her computer. They are alone now. She quits the application, and we discover YouTube behind the window. CHRIS ANGEL's pre-illusion, backwards music is playing.
CUT to: THE PRINCESS, talking to the camera, which is now in a WEBCAM position.
We can see him, out of focus, behind her, leaning forward, elbows on knees, head in hands, looking absent-mindedly at the screen.


THE PRINCESS
"Anyway, you take the measurement, or the red pill, as some would call it, by emptying your mind and becoming the other person's mirror."



ZOOM INTO A REFECTION IN HER EYES
She imagines them as FRED ASTAIRE, and GINGER ROGERS.
Choreographed sequence follows of them doing the Astaire 3-miror dance.
Three 'reflections' of him, but none of her.

MEET THE OGRES <--- play song
(as presented Live at Melbourne International Film Festival 2009)


From left to right:
SHREK-ASTAIRE-SPADE,
SIR SHREK-ASTAIRE, and
SHREK-ASTAIRE MONTY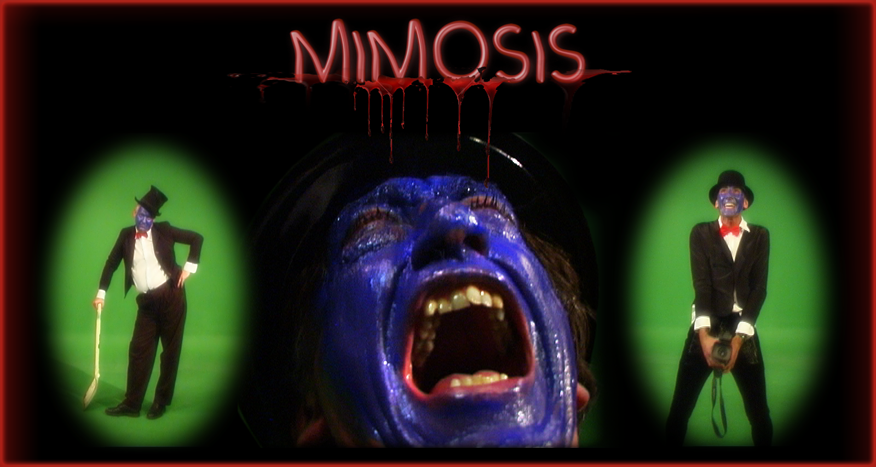 They are doing 3 different things, and she, facing them, is trying to keep up with all three...



THE PRINCESS IN VOICEOVER
"You will find yourself involuntarily imitating the person's mannerisms, and their movements through time and space, just to see how it feels. You will allow yourself to emote on call, and spontaneously mimic the tones and textures of their voice. In this way, you become the instrument on which the other plays, and their feelings your music."



SHREK-ASTAIRE-MONTY
When I'm callin' YOU...OU...OU...OU...OU...OU...OU !
It sounds like a cross between TEX AVERY and 'Darling... I'm home' (JACK NICHOLSON version). We also notice his Scottish accent for the first time. He sounds just like SHREK, but looks like he has already been kissed by quite a few Princesses.



THE PRINCESS CLOSE-UP SOFT FOCUS
"Ultimately, you arrive at an approximate sensation of what it's like to be that person: past, present and future."



CUT to: THE 3 SHREK-ASTAIRES IN THEIR RESPECTIVE MIRRORS.


THE PRINCESS VOICEOVER. Rising tension.
"Their spine is inside you, and now you must quickly decide if you can run with that. Unfortunately it's already too late to deny that you are in love, and that your judgement is cactus."



On the right, SHREK-ASTAIRE-MONTY has been gyrating his pelvis à la FULL MONTY. In the middle, SIR SHREK-ASTAIRE has been doing a highland fling, while on the left, SHREK-ASTAIRE-SPADE just stands there with a spade in one hand and giving her the finger with the other.


CUT to: SIDE VIEW AS CAMERA STARTS TO SPIN
She leaps forward and KARATE KICKS the central mirror, making a dive in slow motion for the friendliest-looking reflection: SIR SHREK-ASTAIRE. He reaches out to her, while the other two SHREK-ASTAIRES jeer on the sideline.

SIR SHREK-ASTAIRE
"I love ewe"

PRINCE and PRINCESS SHREK-ASTAIRE lock and embrace in a dazzling environment of soft focus and twinkling lights. He spins her around, so that for a while, her happy face stays aligned with the camera's movement.
PRINCESS SHREK-ASTAIRE looks gaga. Bisecting them now and in counter-spin, is a hall of mirrors full of mocking SHREK-ASTAIRES. Their refelections mount like stairs to infinity.


SHREK-ASTAIRE-SPADE
"Smile folks, we're on bullet camera."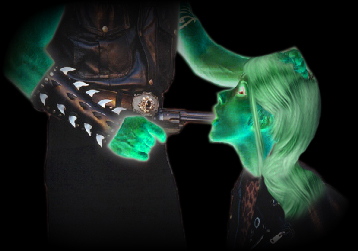 SHREK-ASTAIRE-MONTY (now filming with a handycam)
"Gorgeous wee fukr, gorgeous wee fukr,
.Gorgeous wee fukr, gorgeous wee fukr..."


SHREK-ASTAIRE-SPADE (riding his spade like a drunken hobby-horse)
"Mr Medicine blind in the dark.
Gallops away from the girl in the park."


SHREK-ASTAIRE-MONTY (now filming from groin level)
"Happy fukn NUDE year Double 07.
You haven't felt like this in a 1000 years!"
INCREASING SOUND OF HISSING DIGITAL FEEDBACK


SHREK-ASTAIRE-SPADE (looking slightly sick)
"I really need to take a step back... slow down a little...
HOLY MOTHER OF GOD, SLOW DOWN !
..............................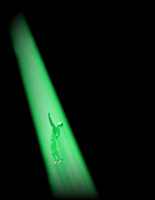 CUT to: FISH EYE POV PRINCESS. HISSING SOUND CONTINUES
SHREK-ASTAIRE-MONTY (Lunging forward towards camera)
"You snore. And there's a bit of a spicy taste inside your mouth.
I'm not sure what it is."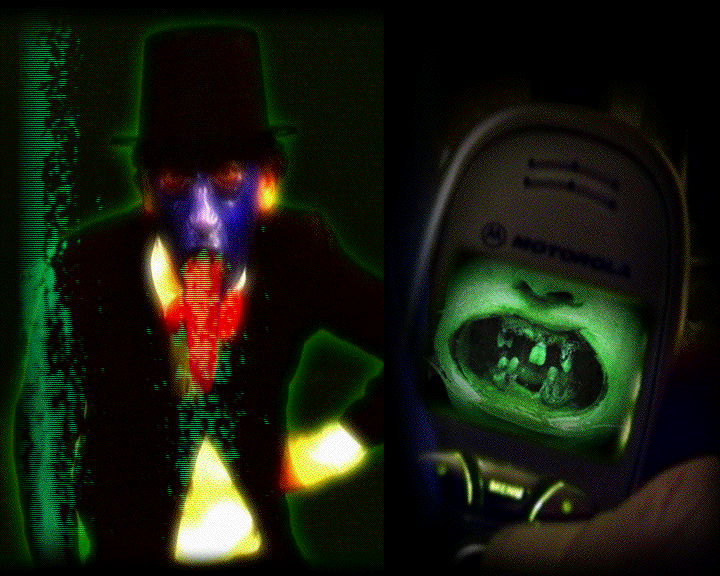 CUT to: OVERHEAD VIEW. THE CAMERA IS MOUNTING QUICKLY
THE PRINCESS (To SHREK-ASTAIRE-MONTY)
"You snored too on the first night, my Prince..."

THE HISSING IS FADING NOW.

THE PRINCESS (Turning back to SIR SHREK-ASTAIRE)
"How sweet and spicy it is my love."

She gives him a peck, he smiles, and they begin to WALTZ.
The BACKWARDS MUSIC is still playing, but at least it's a 3/4 beat.
FADE TO BLACK
FADE IN : REFLECTION of THE PRINCESS in the bathroom mirror.
CAMERA PULLS OUT SLOWLY from her eyes...

... to discover she's SHAVING HER TONGUE...
THE PRINCESS VOICEOVER
"I adhere to the chameleon-like method of British actors, who approach their character 'from the outside in', and trust in the creed of the Patron Saint Eminem, who once said: 'Lose Yourself'. Catching up with Number One again, when love bites hard, can take some time, so expect that for a while, you may find yourself awkwardly and irrationally behaving as he would... if only he'd thought of it first."
Looking back over her her shoulder at the camera, she LICKS THE BLADE just like GARY OLDMAN

.....in "Dracula"


CUT to: The cock's crowing. She's on top, snorting like a bull, AND SHE MEANS IT! He's biting hard into her breasts. She clearly ORGASMS. As she sinks down unto his chest, we hear the RALLENTANDO of her heartbeat.
CUT to: CU THE PRINCESS's face, resting on SHREK's shoulder.
The SOUND OF A DOG SCRATCHING emerges from the heartbeat.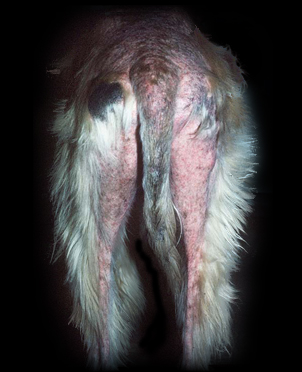 She looks half-way, to see where it's coming from, but then relaxes again...
Then she looks up unexpectedly:
THE PRINCESS
"In our young, mimesis is an involuntary practice, and most probably the seat of all learning. It's also something we rarely speak about when we indulge in it as adults, because it often spooks the spook."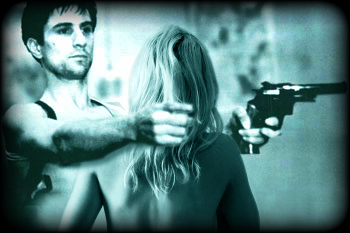 TRANSITION THROUGH WHITE.

STRONG SUNLIGHT. FASHIONABLE DECOR.
The couple are revealed to be a good deal older than they had first appeared.

MASSIVE ATTACK's music is booming.
"So make your choice joy,
The joy belongs to you,
And when you do,
You find the one you love is you..."


She PICKS HIM UP as if he's weightless, carries him across the room, and swings him around twice in a tight circle, before putting him down. Wide-eyed and only half-laughing, he looks gently, but searchingly into her eyes.


SIR SHREK-ASTAIRE
"Uh... that was really gud. Well done."


THE PRINCESS
"Well you know, it's all about balance. I'm not really that strong!"
Thinks: "No it isn't. Why did I just do that?"
CUT to: They are both sitting on the couch. He's watching a DVD: her SHOWREEL...
Her arm is around his shoulder. She's looking at her arm and FROWNING SLIGHTLY.
He's leaning ever so slightly forward.
CUT to: PITCH BLACK BEDROOM SCENE.
Humping sounds.
THE PRINCESS
"Damn it, I can't see you."
Humping sounds stop.
CUT to: MATCH is struck. Blinding light. CANDLE is lit.
CUT to: PRINCESS lighting a FAG with the same match. Pacing.
CUT to: Both back in bed. Very still. Candle sizzles and flickers. He appears to be sleeping, and is turned away from her, but we hear the occasional LUMP IN HIS THROAT as he swallows. Initially clinging to and fondling him gently from behind, she seems to give up, turns a little sharply to face the other way, and SIGHS. The dog, hearing its cue, jumps up and starts WALKING OVER the both of them. He MOANS in his apparent sleep.
THE PRINCESS Whispering in the dark, and sounding like PROFESSOR McGONEGAL.
"During the period of courtship, those who have something to hide may feel scrutinized and oppressed by their twin. Instead of joining in the game, they will often look or run away. It is usually not worth giving chase."


CUT to: MOBILE PHONE SCREEN
TV SOUNDS : "... and they're coming in for the second leg of the DAILY DOUBLE..."

HOUSE OF CARDS <--- play song
(as presented Live at Melbourne International Film Festival 2009)

MOBILE PHONE ONSCREEN TEXT



Thumb hits "BACK" button.
"Save message?"
Thumb hits "YES" button.
PRINCESS McGONEGAL CU
"As the abandoned daughter of a gambler, I was warned by his broken spouse never to gamble money. I therefore became addicted to gambling my heart and soul, and for luck, apprenticed myself for years in becoming a pretty safe bet."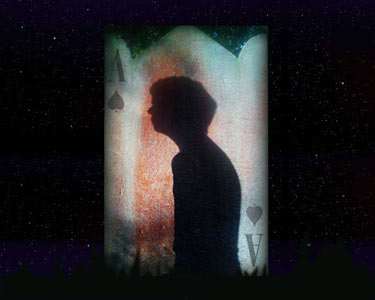 CUT to: "THE HEE HAW INTERLUDE"
He's CRAWLING ON ALL FOURS now and he's riding on her back, swinging an IMAGINARY LASSO through the air around her. He's urging her to buck.

.....
.........
"Pleasure! Danger! And Fun for all the Family. Yes those silly clowns are at it again in another rib-tickling comedy from Up Your Face pictures, entitled: 'The Synchronizer'..."
CUT on the word "rib-tickling" to white knuckles, as HER NAILS SINK DEEP INTO HIS SIDE. Then, to his face, in slow motion, looking like it's down-wind of a LARGE INDUSTRIAL FANNY.
The music darkens into the whips and explosions of the music:
"1000-LEGGED WORM OF FIRE".........

SLOW FADE OUT

WEBCAM SHOT, FROM ABOVE HER COMPUTER SCREEN.
She's reading a page she's just typed. The McGonegal accent's gone now.
THE PRINCESS
"How to cultivate wild spontaneity and exuberant certitude - my native state - into a fine art? That was my question. Over time, and due to an inordinate number of wins, a growing faith in this rapid method of knowing the other, coupled with a tendency to bond quickly when I like what I feel, has driven me to plunge many times headlong through the gateway to freedom and adventure, and more often than not, towards true happiness. There have been a few losses, but what would be the point in counting them?"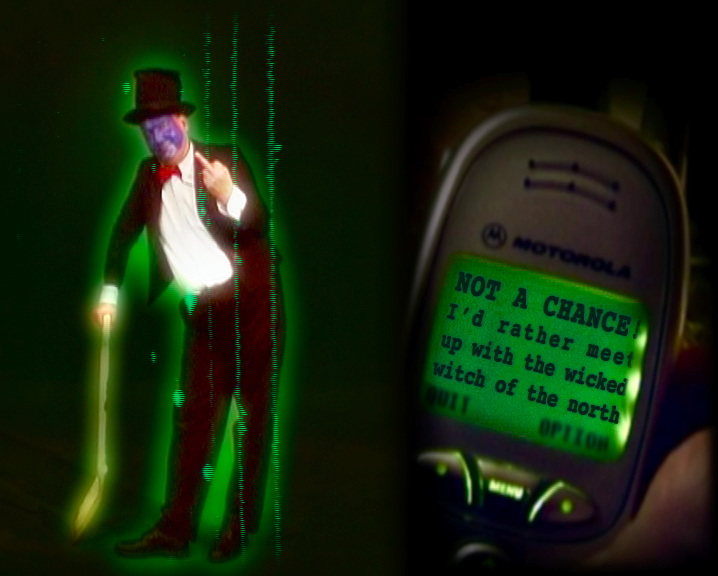 She screws up the page and ditches it. Then double clicks on the mouse.
CUT to: ONSCREEN PORN: DETAILS OF FACES
A sexy audio loop is playing. Multiple overdubs of girls coming.
Sounds like someone is MIXING IT ALL LIVE.....
CUT to: LOOKING DOWN AT THEM FROM THE FOOT OF THE BED
They are humping again, somewhat dryly. She can't come. Above them, she sees her endless unanswered SMS messages, projected onto the white silk that covers her big brass bed. She resigns from the task of pleasuring herself, and he, sensing her failure, quickly whips her over.

Bob Dylan's "Idiot Wind" emerges from the cacophony, and he begins to pump her hard.
The record skips and sticks. They both think it's funny at first, but the laughter subsides as they listen to the words:

"Cover up the truth with lies...
You're an idiot, babe...
You tamed the lion in my cage...
Not enough to change my heart...
Started off on top.... now your on the bottom...".

She helps him ejaculate as quickly as possible.
JUST SHREK Rolling off her
"Sorry, I couldn't wait."

The record has stuck so badly by now, that there's only one syllable left:
"Tick tick tick tick tick tick tick tick tick tick tick tick..."

They are both lying on their back now, staring into space. A vision appears on the bed-head of his final SMS message, which has not yet been sent, but is certainly being thought about:

She closes her eyes, and all goes dark again.


Enter the sound of an asynchronous, but accelerating heartbeat.

DREAM SEQUENCE SMOKEY BLUE VELVET CABARET.

HOUSE OF CARDS <--- play song
(as presented Live at Melbourne International Film Festival 2009)


The Princess is looking nervous as she walks onstage.
Visions of the audience gradually emerge. Mouths laughing and sucking grotesquely.


PRINCESS ROSSALINI (sung)
"I felt his pulse to be strong... and gone..."
BACKING VOCALS
"Strong... and gone, strong... and gone, strong... and gooooone..."
PRINCESS ROSSALINI
"I thought: Back Door Man, but my heart knocked on"
BACKING VOCALS
"Knock knock knockin'... knock knock knockin'..."
PRINCESS ROSSALINI
"BLUFF ALERT in the house of cards.
His hand is soft, but his game is hard."
BACKING VOCALS
"Don't you know baby it's so damn hard."


PRINCESS ROSSALINI
"Are we playin' here for double six?
Or two little ducks? the Joker picks.
Keep it out in the open, butt-naked and chaste.
Then woo the wonder, or weep the waste!"


BACKING VOCALS
"Weep weep weepin'... weep weep weepin'..."
PRINCESS ROSSALINI
"Some hope... you say? Well call his child.
So will it play? It will? That's wild!
Now we're laughing and gliding on a film of sweat.
Actions aweigh! I'm winning the bet."
BACKING VOCALS
"Ride a cock-horse to Banbury Cross
To see a fine lady with sauce up her arse."

PRINCESS ROSSALINI
"Now hear his story... his past intense...
Dream on that real time's just a dance
We were laughing together! And seizing the day
Not coming together, but goin' away

Goin' away-ay-ay
Goin'away..."
CUT to: PULLING BACK AND UP SLOWLY from tear in Princess's eye to almost O'HEAD SHOT
PRINCESS ROSSALINI
"Pipe-dream passion, false but strong,
Drowned out and washed me to oblivion."


MUSIC LULLS FOR A MOMENT.
Then the whole band comes in, once more with GUSTO, for the REPRISE.
CUT to: WIDE SHOT FROM BEHIND AUDIENCE AS CAMERA SLOWLY DISTANCES.
They are throwing their hats in the air in slow-mo.

PRINCESS ROSSALINI
"We were laughing...
Going away...now."



CaTV performing 'House of Cards' at MIFF09


The MUSIC IS MUTATING into that BACKWARDS WALTZ MOTIF again.
She's HOWLING it out now for everyone to hear.


PRINCESS ROSSALINI
"VOLEUSE DE CHAPEAU !
VOYAGEUSE EN BATEAU !"
The audience begins to howl back...
CUT to: OVERHEAD CU PRINCESS
MUSIC CUTS
She opens her eyes. She realizes it's the dog that's been howling, but can't stop now.
PRINCESS ROSSALINI
"BRAQUEUSE DE MATLOT !"
CUT to: CU AND ENTERING DOG'S HOWLING MOUTH
PRINCESS ROSSALINI
"CROQUETTES POUR CHIOT !"
CUT to: CU SHREK'S ARSE RISING FROM STAINED SHEETS.
The dog jumps in to voraciously lick the sperm. She's in hysterics at the sight of it.

THE PRINCESS
"Wanna drink?" She says it to both him and the dog.


CUT to: HIMSELF. He's in the next room, pulling on his trousers as fast he can.
CUT to: CU HERSELF. She's now hearing the jingle of his keys.
CUT to: HIMSELF. He's trying to hold back, but sneezing violently.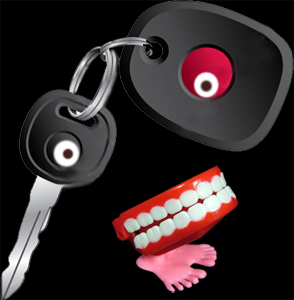 SHREK
"No... I've gotta go", (sounding guilt-ridden, and muffled through his handkerchief)
"I should have set the alarm..."


CUT to: CU HERSELF.
She can hear the keys, now ringing inside her head. Silence, as he walks in to face her. She bursts into tears.


SHREK
"It's alright". (He says it like a well-trained nurse)
"I'll ring you very soon."

And then he's gone...
TV SCREEN
FRIENDLY SPORT'S COMMENTATOR (Scottish accent)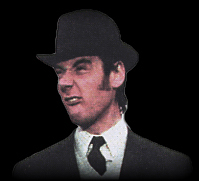 "You've really got to be careful on the home stretch that you haven't been blinkered all along by CLARENCE THE COCKSUCKER. His bad faith and frequent habit of INVERTING THE BINOCULARS can, and most likely will cause most of the gloss to rub off your photo finish, especially if you both have been running with same handicap: that is, as DAMAGED GOODS THAT HAVE ESCAPED FROM THE KNACKERY. The checkered past, as it unfolds into the present, will oft expose or extinguish the "PHALLUSY", and the whip that was cracking so well to speed you on, can break your back on the final hurdle: TRUST...PIPPED AT THE POST, you must go home now, holding nothing but the consolation prize." ............
HE WINKS


THE PIED PIPER <--- play song
(as presented Live at Melbourne International Film Festival 2009)




CUT to: Her bedside, late afternoon
The Princess is reading her fractured fairy tale to the dog.
It has been dressed up with a white lace bonnet and nighty, but it's hardly the big bad wolf.
Mad collage of Loony Tunes coming from the TV in the next room.
THE PRINCESS (Reading from her scrap book)
"The line was: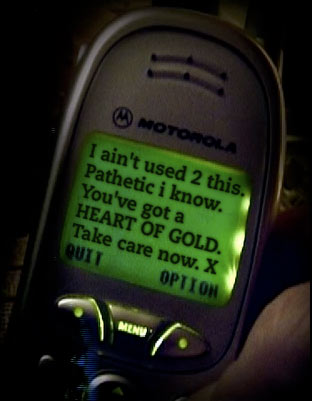 It sounded like a polite and apologetic enough way to put it. He had typed it up as an (I-couldn't-manage-any-more-than-an) SMS message, in order to maintain his distance. It was unclear to her if the final 'X' should read as a kiss, or as the X of their deleted affair. 'I won't be seeing his hooves for dust....', she thought. 'He's home free.''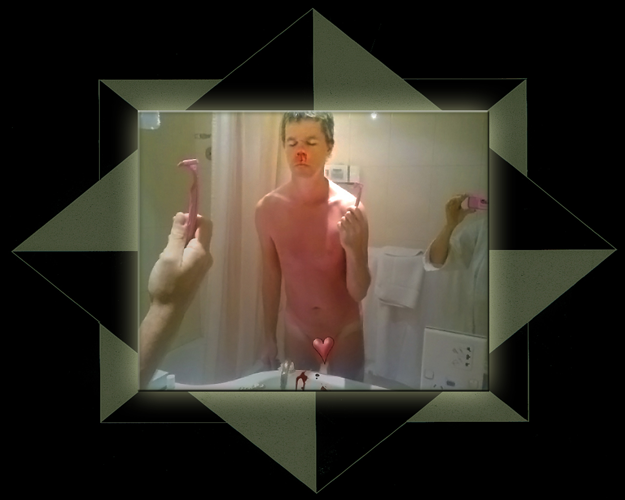 .
She SLAMS the book shut. The dog, in fright, gets up to go but she prevents this.
.
THE PRINCESS
"Licking her wounds, the Princess limped back to the shelter of her ivory tower, realizing now that she and the Prince had never been going anywhere, least of all and despite his frequent affirmations, on a romantic adventure. Spun out by the sharp bends of the closed circuit, her empty mind could only stutter now over one question. 'Whatever happened to his form? I was doing my best to train him.' It was a joke, but the Prince's disappearance was also an enigma, which needed to be solved..."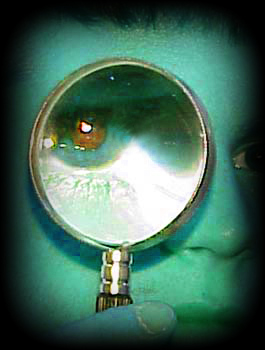 CUT to: CU DOG, who is now clearly avoiding eye contact.
THE PRINCESS
"She'd asked a trusty friend to take a sniff, to see if she had camel-breath, and he had laughed and said: 'No, it smells quite normal'. That couldn't be the reason, she thought, although she had to admit that her dog did, quite frankly, stink. She made a mental note to keep it out of the bedroom in future, but only when handsome princes came around."



CUT to: WIDE SHOT OF ROOM.
It's a mess. Flies buzzing. Her wrists seem to be leaking.

THE PRINCESS
"There was also a good chance that she had been giving the wandering Prince a strong impression that he should feel at home here, which was rubbish, because in actual fact, she LOVED her ivory tower, and needed it all to herself."


FADE TO BLACK, AND WAIT 2".


QUICK FADE UP
CU PULLING BACK FROM... WELL-TRAINED NURSE 1.
WELL-TRAINED NURSE 2 is in the background, assisting THE PRINCESS through the house, towards the front door.

WELL-TRAINED NURSE 1 (KGB accent)
"But the truth about the Prince, when it dawned, was worse than all of this, and shook our Princess's method and creed from the spine-side out! This Chevallier, she realized, after putting most of the pieces of the puzzle together, had only been kicking ass as an actor, and in fact, she had not been responding to his true nature at all. As the Shrek character, he had made her feel for one beautiful celluloid moment, that she had been rescued, and in loving memory, she accredited him for having played the part so well. It had even felt like Shazam, the evening she had gotten him to say..."



CUT to: TV in the lounge room, which stops her in her tracks.
SHREK
"But you're an ogre too..."

TALL POPPY <--- play song
(as presented Live at Melbourne International Film Festival 2009)


CUT to: WELL-TRAINED NURSE 2 assisting THE PRINCESS into an ambulance.
WELL-TRAINED NURSE 2
"The magic carpet trip had revealed itself in the end to be nothing more than a donkey ride to the land of Fairy Tale Creatures, and anyway, everyone knows that Mike Myers is a Canadian."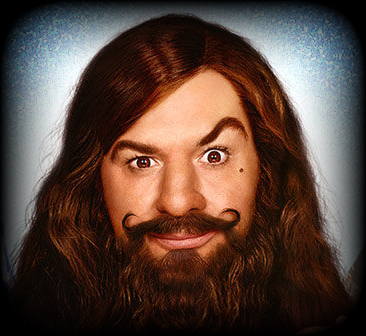 CUT to: THE PRINCESS hollering from inside the ambulance.
THE PRINCESS
"Oh well, fuck CHAMELEON NIGHTS. There are six other horses running and I haven't backed the Favorite yet."

Ambulance door slams in front of her and drives off. It's sound:
"HEE HAW...HEE HAW...HEE HAW"
underlines the film's token reference to Donkey.