THE ARCHIVE
VISIT VOGANIA FRANCE FOR 1987-2003

I have no access now to update the code on Vogania France, so my apologies that some of the applets no longer work.
Thanks nevertheless to Tiscali France for leaving the 'Pages Perso' intact over the last 12 years.

Ah, so much gets lost as technology evolves. Not just one's first film that gets mangled by a projector, as mine did, but work that was composed and recorded using machinery, software and mastering formats that can no longer be read. This hasn't only impacted upon the authors and their 'happy snaps', but on institutions such as the Bibliothéque Nationale in Paris, which initially sought to curate and conserve what was singular and precious in new media.

In 1995 I was commissioned to salvage and restore the video collection of the Simone de Beauvoir Centre. This work was only about 20 years old, yet it felt like an archeological dig to retrieve an important part of the history of French feminism; in particular, a film with Delphine Seyrig called 'Maso et Miso vont en Bateau', that was somewhat in shreds. Film buffs will remember Seyrig as the lead actress in 'L'Année Dernière à Marianbad' by Alain Renais; or perhaps as the wife of Jean Paul Sartre; but she would later become the Directrice of the Simone de Beauvoir Centre and a figurehead of the feminist movement.

That year, the Biblioteque Nationale stopped sending threatening letters to film-makers who did not submit a copy of their finished work. I'd had two of these letters in the past because of late submissions, and it was made clear, that it was my legal obligation to comply. The change of policy coincided with Pioneer's decision to retire the Videodisc player, on which was recorded most of the interactive work of the "father of video art", Nam June Paik, and my guess was that they were having problems maintaining their collection, and not only for financial reasons.

I knew Paik from when we had both exhibited at the AB gallery in Bastille. He used to paint the Videodisc players (somewhat awfully), so that he wouldn't have to pay import duty when he brought 40 or so of them into France for an exhibition. His work was on NTSC and we used the PAL system for production (no, not SECAM, which was used uniquely for broadcasting and distribution on VHS). He gave us one of his players when he left the country. Besides the appalling artwork, they would become universaly useless in a couple of years, and the language of Paik's interactivity, lost.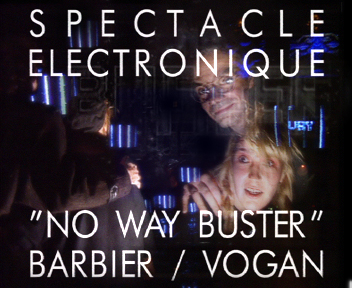 Those of us who embraced electronic art in its period of pre-history have come to realise that it will never have a history in the same sense as other art-forms. We can trace painting from Lascaux to Banksy, and sculpture too, for aeons; but the alluring age of mechanical reproduction would lead us towards an in-built obsolescence of the art itself, and the death of the curator.

Photo death and the death of the author had another hidden, but quite literal meaning. Your photos will perish soon, and your films sooner, no matter their greatness. Even Frtiz Lang's 'Metropolis' has missing fragments. YouTube brought hope, but since there are no hubs of excellence to consult, the good, the bad and the exceedingly ugly co-exist - for want of a better word - like needles in a haystack.

I got into a heated debate about 10 years ago, after relating some of this history, as well as my own, to an Apple sales rep. It concluded with his opinion that there was too much media being created these days, and that: "No one cares about your happy snaps!". I sat down later, to compose this angry little song, but unfortunately I didn't get round to recording the vocals, and can't open the project any more…

HAPPY SNAPS

Billy, Gates of Heaven
Sold out to a software salesman
Making memories shorter
Zeroed for our sons and daughters

Formats and frame stores and flickering lights
Editions and systems, they change overnight
In a tenth of our life-time, we no longer play
The things we compose or the Betamax A...

I spit micro chips that merchants can choose
What things we keep, and what things we lose
Store it for longer, now that's where it's at!
Do not delete our happy snaps

Do not delete our happy .aps
Do not ...ete our nappy s.aps


Cathy Vogan